The inflation numbers are out this morning and they confirm what was feared. Inflation is the worst it has been in 40 years as it rose to 8.6%. Unfortunately, President Joe Biden is doing everything but passing out W.I.N. buttons as he continues to bring back the 70's. Two economists predicted over a year ago on the pages of the Wall Street Journal that we would experience such inflation. Invesco economist John Greenwood and Johns Hopkins University Professor Steve Hanke opined again on the problem in a letter to the WSJ this week:
The lead paragraph of President Biden's op-ed "My Plan for Fighting Inflation" (May 31) asserts that the global economy faces an inflation problem exacerbated by Vladimir Putin's war in Ukraine, high oil prices and supply-chain problems. This line of argument shows why the president's team and the experts at the Federal Reserve were unable to anticipate the inflation conundrum that their economic missteps have forced us into. It also shows why the president's plan will likely fail to allow us to exit inflation with a smooth landing.

We don't have a global inflation problem. Inflations are always and everywhere a monetary phenomenon spawned by the creation of excess money by local central banks. China, Japan and Switzerland also face elevated oil prices, supply-chain problems and fallout from the war in Ukraine, but their annual inflation rates are 2.1%, 2.5% and 2.5%, respectively. They have avoided the ravages of inflation because their central banks haven't produced excessive quantities of money.

Adherence to the tenets of monetarism is nowhere to be found in the Biden White House or the Fed. Chairman Jerome Powell has stressed that we had to "unlearn" monetarism. It looks like Mr. Biden was an attentive student. The word "money" doesn't even appear in his plan to whip inflation. As he said in 2020, "Milton Friedman isn't running the show anymore." As long as Friedman and monetarism remain canceled, the White House and the Fed will be grasping for straws.

Prof. Steve Hanke and John Greenwood

Johns Hopkins University

Baltimore and London
Check out the chart for M2 (Money Supply) posted below. The chart ends in March. M2 is 36% higher than it was in March 2020, 50% higher than it was in March 2019, and 9% higher than a year earlier.

What does it all mean? This: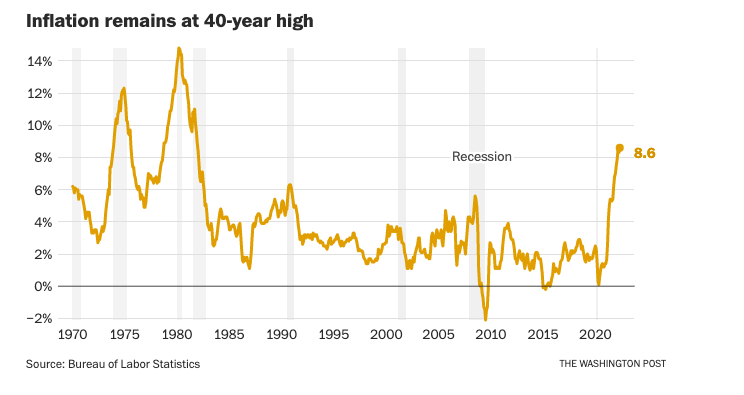 The Washington ____'s Heather Long dished out the inflation dirt this morning:

Unfortunately, inflation will probably get worse. Former PIMCO star Mohamed El-Erian tweeted:

Every US

#CPI

#inflation

measure came in higher than consensus expectations. Amplifying the economic/social/political discomfort, headline is a new high for this inflation cycle. Also, if the first 10 days of June are anything to go by, the next monthly measure would be higher.
As long as more money is dumped into the economy, inflation will not grow but mushroom. Our two economists predicted this would happen in the Wall Street Journal a year ago:

The inflation upticks aren't temporary and were predictable, driven by an extraordinary explosion in the money supply. Since March 2020, the M2 has been growing at an average annualized rate of 23.9%—the fastest since World War II....

According to monetarism, asset-price inflation should have occurred with a lag of one to nine months. Then, with a lag of six to 18 months, economic activity should have started to pick up. Lastly, after a lag of 12 to 24 months, generalized inflation should have set in. That's the standard monetarist sequence, and it's been followed to a T....

money supply (M2) should be growing at around 6% a year for the Fed to hit its inflation target of 2%. With M2 growing at nearly four times the "ideal" rate since March 2020, inflation is baked into the cake, and it's likely to persist. By the end of the year, the year-over-year inflation rate will be at least 6% and possibly as high as 9%...

Some who like to throw cold water on monetarism argue that the velocity of money has collapsed and will mitigate the inflationary impact of the rapid growth of the money supply. While velocity did collapse with the onset of Covid, it's on track to pick up until the end of 2024. Consequently, velocity will grease the monetary wheels. That's why inflation might hit the high end of our forecast range... Essay.