Remy Harvey was sentenced to serve 25 years in prison after he pleaded guilty to kidnapping, armed robbery, and carjacking yesterday in Hinds County Circuit Court. He was only 13 years old when he and 16 years-old Eddie Devine kidnapped and raped a woman at gunpoint at Hallmark Gardens Apartments in April 2014.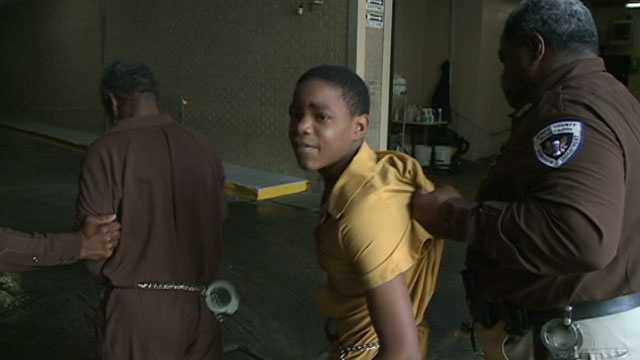 Harvey yells at reporters in 2014. Source: WAPT
His boy, Eddie Devine, was sentenced to serve 35 years in prison two years ago. Devine was also convicted of carjacking a woman at Dogwood on December 23, 2015.
A Hinds County grand jury indicted Harvey in November 2014. The five-count indictment charged him with forcible rape, armed robbery, kidnapping, aggravated assault, armed carjacking, and sexual battery. Harvey underwent a mental evaluation before he pleaded guilty this week. He pleaded guilty to rape, armed robbery, kidnapping, aggravated assault with a gun, and armed carjacking.
Circuit Judge Bill Gowan sentenced him to serve 40 years in prison but suspended 15 years of the sentenced. He also ordered him to serve supervised probation for five years upon release. Harvey was indicted for an August 2016 escape from jail but that charge was remanded to the file.