The trial of Hinds County District Attorney Robert Shuler Smith resumes today. Below is a summary of what took place last week. Judge for yourself who is ahead right now. Read Anna Wolfe's live tweets from the courtroom today as well.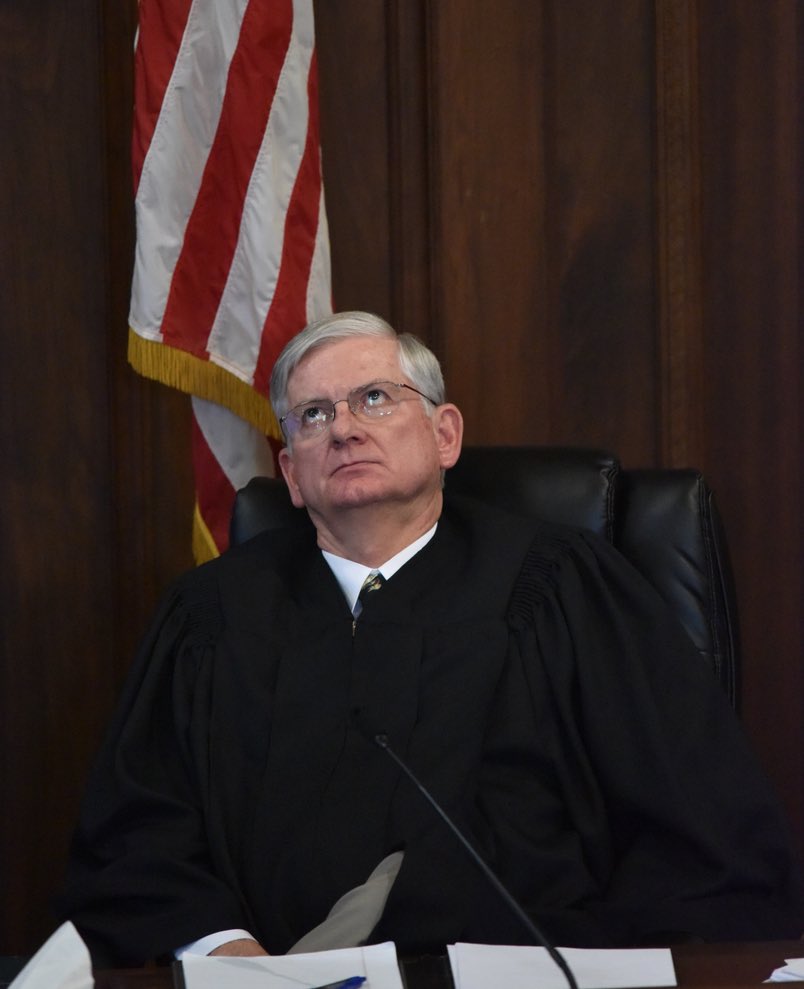 Day 2
The Attorney General drops the indictment against Assistant District Attorney Jamie McBride. Speculation runs rampant over whether McBride flipped or the Attorney General dismissed a weak case. The jury composition is twelve black and two white jurors.
Article
Day 3
Opening arguments were made but the courtroom heated up a little bit more as disgraced former Assistant Attorney Ivon Johnson took the stand for the prosecution. Johnson pleaded guilty in federal court this year to accepting bribes in exchange for giving favorable treatment to suspects. The prosecution presented text messages between Johnson and Smith that showed the D.A. stating "I don't give a damn about there not being charges somewhere" in reference to Smith's attempt to indict Circuit Judge Jeff Weill and two A.G. prosecutors over the Christopher Butler case.
Butler is a twice-convicted drug dealer. He was indicted again for possession of marijuana to distribute. The D.A. attempted to drop the case but Judge Weill refused to let him do so. Smith argues that Butler was framed by MBN agents. The two A.G. prosecutors were prosecuting Butler on consumer fraud charges in a separate case.
Anna Wolfe reported in the
Clarion-Ledger
:
In a secret recording provided to the FBI, Smith is heard talking to Ivon Johnson, a former assistant in Smith's office, about Hinds County Circuit Court Judge Jeff Weill. Smith said: "The more he do, the worse it gets for him. The more he hold on, the worse it gets."

"Mr. Smith was discussing different legal tactics to take against various people," Johnson said. "Judge Weill was one of them, so I anticipate what he meant was the longer he keeps denying me from getting rid of this case, the more I'm going to go forward and pushing it."...
Texts between Johnson and Smith show the district attorney had planned to take Weill, presiding over Butler's case, and the two assistant attorneys general prosecuting Butler's fraud case, Shaun Yurtkuran and Patrick Beasley, to the grand jury on June 22. He was arrested that morning before he could present his case. Article.
An FBI agent also testified that there is a current FBI investigation into the Johnson's bribery scheme.
Day 4
The trial became a briar patch as the case became convoluted with more weeds, vines, and offshoots that became frustrating at times for observers. A statement by Judge Larry Roberts captured the sentiment of the day:
"We've got the attorney general accusing the D.A. of effectively obstructing justice and we've got the D.A. accusing the attorney general of obstructing justice," the special judge presiding over the case, Judge Larry Roberts, said Wednesday. "I guess the jury is going to have to resolve that dilemma in their verdict."
Read about it here in this article.
Ms. Wolfe also posted some rather interesting tweets:

There have been plea negotiations in RSS's case, but at this point, #DASmithTrial will continue Tuesday

Butler's phone was seized? Yes. Did you look at it; is there correspondence w/ RSS? I didn't get that cell phone, the FBI has it.

McDivitt: I've never seen a DA, ADA trying to free someone who is not their client. My understanding is their job is to send people to jail

Wasks McDivitt to describe how/why RSS interrupted previously referenced hearing.M:Transcripts don't show yelling, gestures, getting up/down

McDivitt said he doesn't remember who gave explicit orders to arrest RSS, there were "lots of attorneys involved."

Literally no one who has seen the video, including @clarionledger, saw the "planting" RSS alleges

RSS sent this text to Waide June 7th, indicating he may not have seen video until years after he claimed it proved framing

Knott: The attorney general told Butler if he were able to provide any information about Smith's wrongdoing, there would be "considerations

Knott: RSS had my permission to visit Butler as long as he did not discuss the case in which I represented him (white collar)

Butler is being held in the Jackson detention center right downtown, his mother Edia told me earlier this week

Butler's current representation, AG says: Kevin Rundlett on drug charges, Damon Stevenson on fraud/embezzlement

Johnson only admits to taking $500 of the $15k involved in the scheme. Who took $14,500?

The trial continues today. Ms. Wolfe is Tweeting away from the courtroom. Kinds of reminds one of how fights were broadcast over the wire before there was radio.
Kingfish note:
The testimony and evidence that the D.A. was attempting to indict a judge because he couldn't get his way on a case is very troubling. One must ask if it is grounds for action by the Bar. This is, as stated earlier, a convoluted case and it will be interesting to see if prosecutors can keep the jury from getting lost in the weeds. The Johnson testimony didn't provide any direct evidence of the D.A. accepting bribes for anything. There is still more prosecution testimony and the defense gets to present its side. The prosecution is still presenting its case so it is not even halftime in this ballgame