Luke Woodham. The mere mention of the name recalls one of the worst nightmares that ever took place in Mississippi. Nearly twenty years have passed since that bloody October day, but no one who was alive then has forgotten its horror. Woodham is trying to get a chance at parole. Woodham might actually get to be eligible for parole thanks to a 2012 U.S. Supreme Court ruling.

The 16 year-old Woodham stabbed his mother to death on October 1, 1997. He left his house, went to school, and proceeded to engage in a shooting spree that killed two fellow students and wounded seven others. He was sentenced to life in prison without parole for simple murder and twenty years in prison for aggravated assault. The case was closed and it was hoped Woodham would not be heard from again as he lived the rest of his life behind bars.


However, the U.S. Supreme Court had other ideas about mandatory sentences of life without parole for juvenile killers. The Court struck down such sentences in
Miller v. Alabama
(2012). Woodham filed a motion for post conviction relief in Rankin County Circuit Court on June 11, 2015. The U.S. Supreme Court stated on its blog that
Miller*
held:
The Eighth Amendment prohibits a sentencing scheme that requires life in prison without the possibility of parole for juvenile homicide offenders. Link to SCOTUS blog and opinion.
Woodham argued that the Mississippi Supreme Court ruled in
Parker v. State
(2013) that "Mississippi's statutory sentencing scheme for murder unconstitutionally mandates a sentence that is 'tantamount to life without parole' and thus violates the United States Supreme Court's holding in
Miller v. Alabama
when it is applied to juvenile offenders."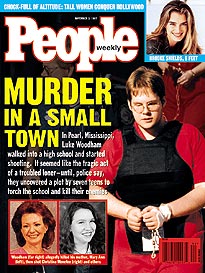 The motion asks the court to resentence Woodham to "life with eligibility for parole".
Miller
retroactively applies to Woodham's case since he was a juvenile when he committed his crimes. Mr. Fortner then makes several arguments about the immaturity of juveniles and how life without parole prevents them from having the opportunity for rehabilitation. The motion is posted below.
Mr. Woodham will be immediately eligible to apply for parole if he prevails on his motion, since he served at least ten years of his sentence. He is represented by Tom Fortner. Special Circuit Judge Michael Ward will preside over the case. The state has not yet filed a response.
*
Judgment
:
Reversed and remanded
, 5-4, in an opinion by Justice Kagan on June 25, 2012. Justice Breyer filed a concurring opinion, in which Justice Sotomayor joined. Chief Justice Roberts filed a dissenting opinion, in which Justices Scalia, Thomas and Alito joined. Justice Thomas filed a dissenting opinion, in which SCALIA, J., joined. Justice Alito, filed a dissenting opinion, in which Justice Scalia joined.
Kingfish note
: This case probably won't see the courtroom for another year. While Woodham may win the right to ask for parole, it is
veeeeeeeeeeeeeeeeeeerrrrrry
doubtful, in fact, almost impossible, that a parole board will ever grant parole. However, his repeated requests for parole will undoubtedly mean more anguish for the victims and their families.